Why is it so hard to just "do what you want?"
What do you want to do? That's a loaded question.
I remember asking this question during a speed dating study. First, he says "well, I don't know." Then he shares a bit about what he's studying. Eventually, if he feels safe enough, he might share a dream of his. He thinks it's not practical. I listen as he convinces himself to be interested in something more mainstream and secure. Maybe you've had a similar conversation with someone, or with yourself — knowing what you want, but not sure if it's the 'right' thing to pursue
Since my graduation, I have been sharing my journey on this blog and spoke briefly about my time in Thailand along with the changes that took place after my return to Canada. Upon my return, I set my intention to building a stronger network of support and finding flexible work, preferably as a writer. I also convinced myself to take the risk and pursue dance for the next four years. Now, half a year later, many of those hopes have become a reality: I live in a collective with five other empowered women, and I feel more accepted and supported than ever before. I am finishing a writing contract with the Canadian Association of Geographers, and I have found another flexible job that enables me to train and dance during the weekdays. I have been having dreams and visions, and no longer feel at war with myself and my body.
The first steps to welcoming this new life was finally being clear on what I wanted and having the courage to take a risk on myself.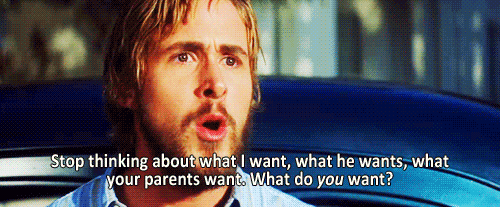 One pivotal change in my thought and behaviour began at an event called Cozy, early this May. A friend invited me to this event and presented it as an authentic-relating and communication workshop. One of the ground rules for the event was to practice how to give and receive "No."
For example:
Person one says to person two "I want a hug. Can I have a hug?"
And person two says "No." if he or she didn't want a hug.
And person one would say (as with the event's norms) "Thanks for taking care of yourself."
I realized that when someone asked me a question, I wasn't answering according to what I wanted, but according to how much I was willing to compromise. I was constantly asking myself to compromise, to be satisfied with something less or other than what I wanted. My first response was to make the other person feel comfortable, even if it means doing something I wasn't comfortable with. Can you relate to this?
Compromise can be beneficial if it is mutual, but some things you should never compromise. If we cannot be there for ourselves, it's difficult for anyone else or anything else to satisfy us. By not articulating our needs and preferences, we give away our agency to shape our own experience and reality. Assertiveness does not equal aggression or conflict. Instead, assertiveness enables mutually beneficial relationships, where people can honour themselves, relate to each other, and grow together.
We are caught in the same habit of compromise when it comes to career planning. We may eventually gain security, but in a lifestyle that does not satisfy. We take someone else's dreams as our own. If we can connect to the work that we do, then it becomes easier to gain ownership be fully invested in our work. Work becomes less of a burden. It becomes easier to have a vision and live with a greater sense of clarity and peace of mind. It makes work lighter and more enjoyable. It also makes us happier people.
You get what you focus on, so focus on what you want.
How can you direct your career goals, your academic pursuits, and your lifestyle so that you are empowered to live the life that you want? Trust that the vastness of life is enough to fill your needs, and start working to make your vision a reality. Do not worry about the 'how' and the details just yet. How can you be more attentive to yourself? Maybe then, the same presence and acceptance you offer to yourself can naturally flow to others.
Thanks for reading!
****


I'm very grateful for this opportunity to share on a larger platform than my

personal blog

. Sharing is a way to extend and preserve my experiences, and I want this sharing to be as helpful as possible! If there is anything I touched upon on which you would like to read more, feel free to leave a note in the comments and let me know your thoughts!.